The Reflection tool for RRI initiatives
Are you reflecting on implementing a ResponsibleResearch and Innovation (RRI) initiative?
Use this six-page document to walk you through small-group discussions on your project's vision, goals and implementation. A tool designed to assist a small working group in its general reflection before starting a project.
What do you wish to achieve?
What will be your measurable success criteria?
Which stakeholders will be affected by your initiative and will you involve in the decision-making?
How will you plan the implementation?
What obstacles do you foresee?
Which resources will you need?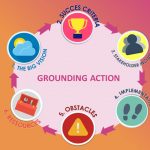 This "Reflection tool" is a six-page document that can be printed and used to facilitate fruitful reflection and discussion on vision, goals, and implementation of Responsible Research and Innovation (RRI) initiatives in smaller groups.
It was initially developed by Malene Vinther Christensen as part of the GRACE project, but can actually be used by anyone who wishes to implement an initiative, before to start a new project for example.
It is meant to help a working group in its general reflection on what it wishes to achieve, in setting measurable success criteria for the sake of monitoring and evaluation, and in project management by planning the steps of implementation, foreseeing potential obstacles, and reflecting on needed ressources. Likewise, it asks the group to reflect on the stakeholders who will be affected by their initiative and will need to be involved in the decisions-making.
We hope you find the tool useful!